Our Mandatory Testing Services
VRX Labs provides all California BCC phase I, II, and III mandated testing services to our customers, including Cannabinoids, Residual Solvents, Processing Chemicals, Pesticides, Microbiological Impurities, Mycotoxins, Water Content, Foreign Materials, Heavy Metals, and Terpenes. Minimum batch size is specified by the state as the minimum threshold required. When appropriate due to clear crop heterogeneity, VRX Labs will counsel customers on the statistical significance of large batch sampling, describe methods by which it may be optimized, and offer solutions that maintain results robustness.
Testing Required in California by Fourth Quarter of 2018:
Cannabinoids
(up to 14 different compounds)
Residual Solvents and Processing Chemicals
Residual Pesticides (65 pesticides)
Microbiological Impurities
Mycotoxins
Water Content
Filth and Foreign Materials (mold, foreign materials, Mammalian excreta)
Heavy Metals
Terpenes (required if the manufacturer states quantity on the product label)
Additional in lab testing (in development):
Plant sex determination
Powdery Mildew
Genomic Sequencing
CBDA/THCA Marker
Walk-up pre-testing lab for potency and toxicity
Sessile lab with embedded employees (high volume requirement, higher setup fee)
Portable potency and toxicity testing
Pretesting on grower site
Harvest time optimization potency consultation
Phenotype validation potency consultation
Pre-testing for potency and toxicity prior to sale from grower to extractor/retailer
Pesticide screening
Root cause analysis for contamination
Sampler Pick-up of BCC Panels and R&D: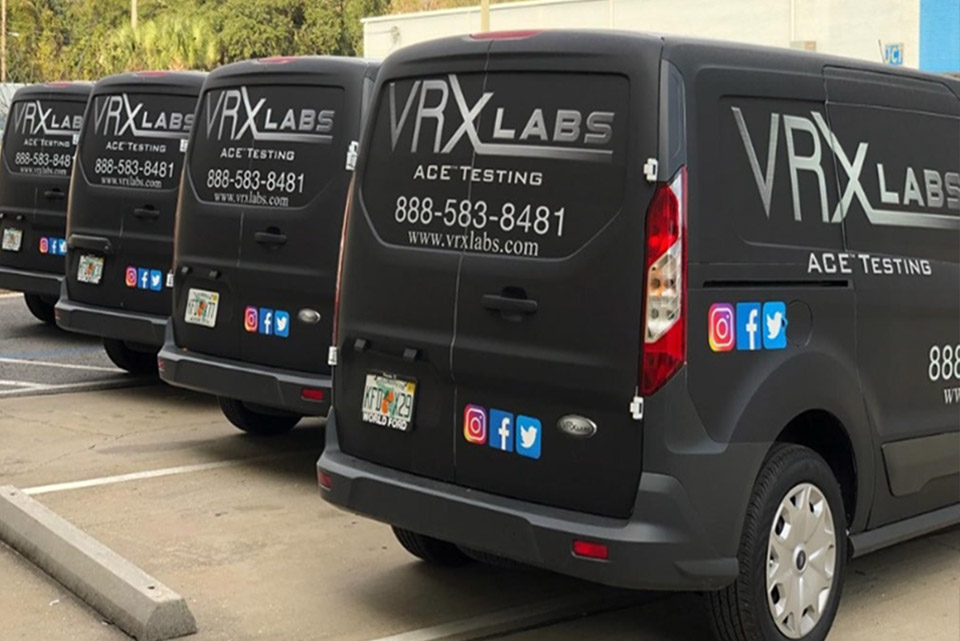 To ensure that your R&D samples are as closely aligned with your actual BCC test panel, VRX Labs highly recommends our samplers pick up R&D samples exactly as they would do for a full BCC sample. This allows professional R&D tests as well as the BCC Panels. Our samplers use calibrated equipment, protective gear to prevent cross contamination, and dedicated sterile instruments to sample products in your quarantine room. Our transport vehicles are specially designed, constructed refrigerated vans with redundant power supplies onboard and UV filters to prevent product degradation in transport. Also, remaining true to our pledge to build a long term relationship with our customers, VRX Labs does not charge a pickup or transport fee when customers provide at least five (5) samples per pickup for testing.
Benefits of Testing for VRX Customers and Product Consumers
Accurate Profiling and Labelling
VRX Labs will analyze the cannabinoid and terpene contents to provide accurate information for growers to fine-tune the flavor and potency of their cannabis products. Accurate profiling will give consumers the confidence needed when selecting the right product to purchase.
THC, CBD, and CBG are the compounds that give cannabis its potency.  We test for all major cannabinoids (up to 14 different compounds) so we can provide producers with accurate labeling information.
The potency for dried harvested cannabinoids will be reported as a percentage. For manufactured cannabis products such as oils and edibles, the potency of cannabinoids will be reported in milligrams per gram.
Terpenes are responsible for the specific aroma and flavor of each individual cannabis strain. The unique odors and tastes of terpenes help consumers differentiate one strain from another and understand what they like or dislike. VRX Labs will provide growers and producers with a precise measurement of terpenes present, which will help sophisticated consumers choose a more satisfying product.
Genetic profile analysis will identify the following plant profiles:
| Plant Type I | Plant Type II | Plant Type III | Plant Type IV |
| --- | --- | --- | --- |
| | | | |
| | | | |
| | | | |
Precision is important when identifying CBD-dominant seeds. Genetic markers are used to find seeds within a population that are programmed to produce high amounts of CBD. A marker is selected on the genome of a cannabis DNA strand based on its proximity to the desired CBD genetic trait. The genetic information contained at the site of the marker is used to find members of the same population that share CBD-dominant genes.
Safety tests performed at VRX Labs include analysis for pesticides, heavy metals, debris, solvents, processing chemicals, and microbiological impurities.  The latter is especially important as legal cannabis is now available for purchase by a large proportion of the population, including older individuals and immunocompromised patients.
Both the BCC panel and R&D testing require licensed labs that utilize BCC method validated scientific procedures to test every cannabis sample that VRX Labs accepts. Those tests include the following: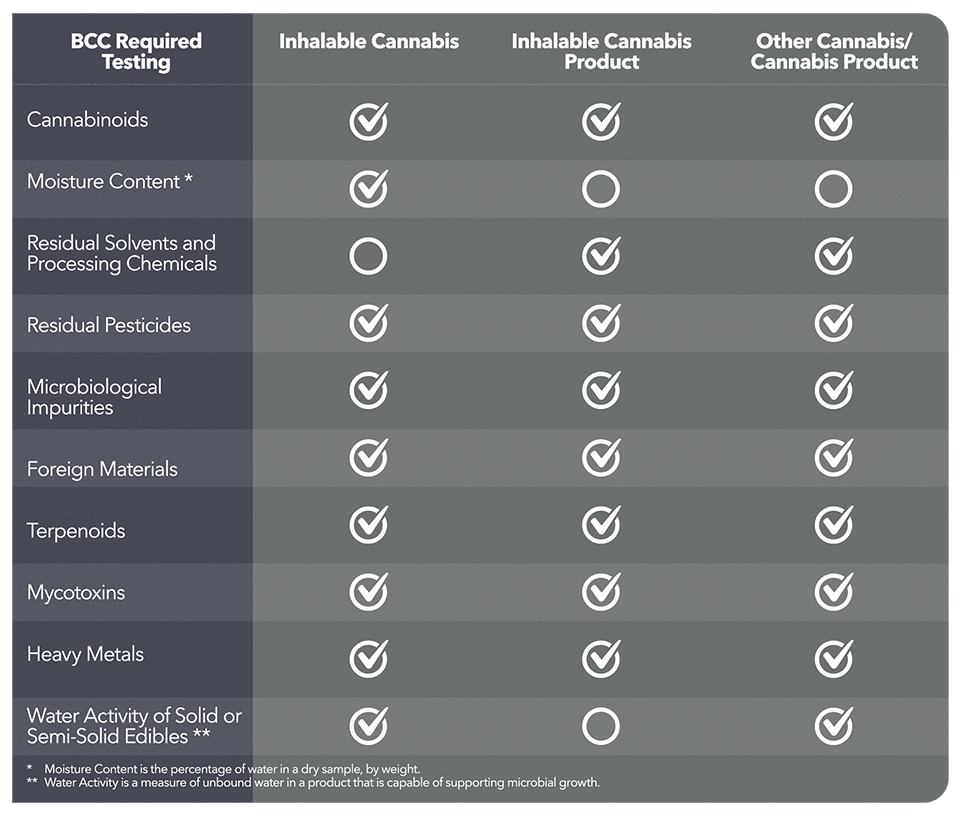 When you succeed, we succeed